Exhibition explored key technological priorities for mining, including multiservice, high capacity wireless networks, telemetry, telecontrol, connectivity and video surveillance.
InfiNet Wireless, the global leader in fixed wireless broadband connectivity, and Ticahsop, presented their latest wireless solutions for the mining industry earlier this week at the Exponor 2019 exhibition in Antofagasta, Chile.
At the exhibition, InfiNet Wireless demonstrated Quanta 5, its new 5 GHz point-to-point solution with a capacity of up to 450 Mbps in only 40 MHz channel, quality Full service (QoS) and processing power in excess of 800,000 packets per second. Quanta 5 is specifically designed to offer the highest spectral efficiency available in the current wireless market and is capable of operating in temperatures from below zero to tropical conditions.
Quanta 5 offers a wide range of applications, such as Internet access, multiservice networks, telemetry and high-resolution video transmissions in a CCTV infrastructure, making efficient use of the spectrum currently available in the market.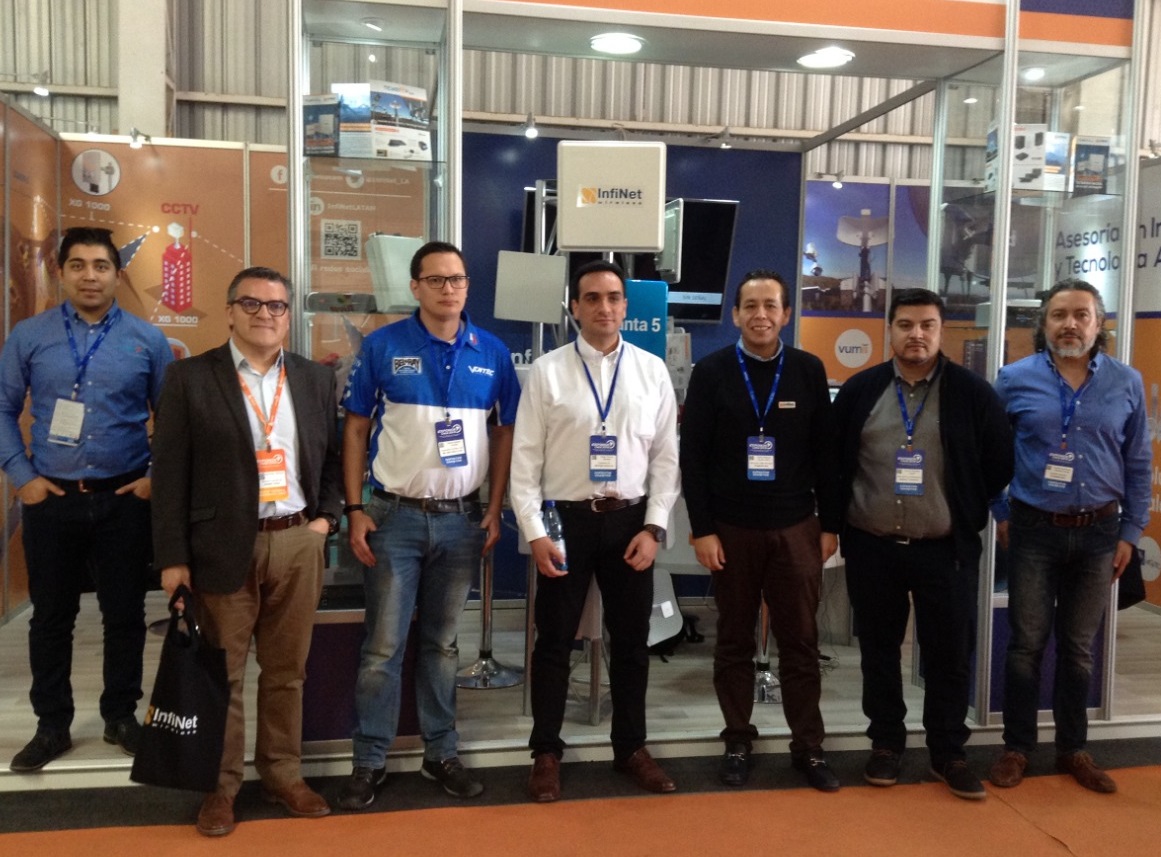 "We offer a wide range of technological solutions for the mining sector, where devices guarantee a high performance and reliability communication at distances of up to 100 kilometers and in cases where giant high-value equipment has to be controlled by remote control, like excavators and other machinery. This work can be done using wireless solutions such as Quanta 5, InfiLINK, InfiMAN and XG," said Carlos Duque, Technical Sales Manager of InfiNet Wireless Chile, Colombia, Peru, Ecuador and Bolivia.
"The mining industry has been one of the sectors in which these technological advances have contributed significantly to the management of personnel and economic resources. Although the evolution has been slow, we now have access to telemetry, telecontrol, connectivity, video surveillance and the ability to track data transport both inside and outside of the mine. As a result, our communications are now more agile and dynamic than before," added Duque.
As a result of an increased partnership between InfiNet Wireless and TicaShop in Chile, more than 30 projects have been completed within less than two years.
"Exhibiting at Exponor with other industry leaders like InfiNet Wireless gave us a perfect opportunity to present our most recent projects in the region," said Daniel Salcedo, Manager of TicaShop. "Exponor allowed us to demonstrate how we can meet wireless requirements to overcome the challenges of connectivity, thanks to the global experience and the growing family of InfiNet Wireless solutions that TicaShop, as a wholesaler in Chile, offers for mining projects, Smart City, Internet of Things (IoT), Industry 4.0 and Cyber Security, among others. InfiNet Wireless' solutions have been very well received in Chile as they have low energy consumption requirements making them environmentally efficient and sustainable. This is important for us to be able to easily implement effective communication networks in our projects," added Salcedo.