The ICT-Solutions-2015 conference, providing key insight and industry knowledge on the latest telecommunications technologies , took place in Bologna (Italy) from 12 to 13 May. The event is held annually by InfiNet Wireless's largest distributor in Italy, ALLNET ITALIA S.p.A.
This year, more than 350 participants attended the conference, including representatives from 43 vendors who travelled to Bologna from all corners of the world. More than 40 presentations, sessions and panel discussions were held across three halls, offering attendees a wide choice of topics and categories to suit their area of expertise and interest.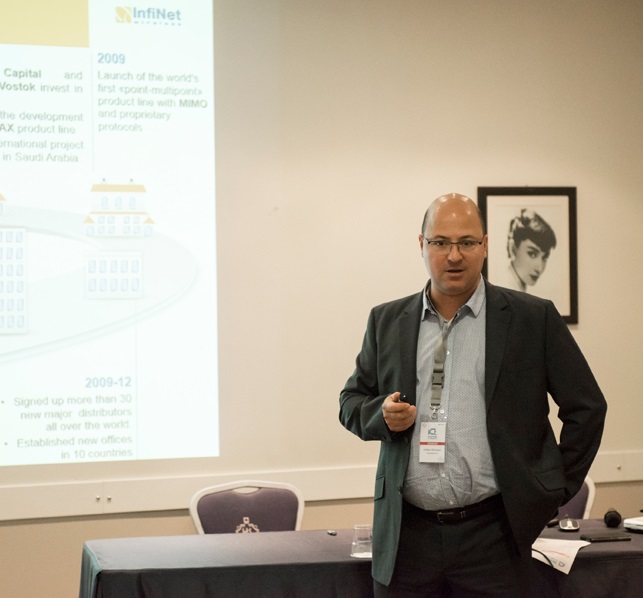 Samir Elhamed, regional manager for France and West Africa at InfiNet Wireless, presented InfiNet Wireless's solutions at the conference through a session entitled "InfiNet Wireless: delivering future-proof microwave solutions", which attracted a lot of interest throughout the audience. Following the presentation, the audience were invited to take part in an interactive session covering topics such as the characteristics of InfiNet Wireless's equipment - and in particular around its high productivity and spectral efficiency - as well as the application of InfiNet Wireless's solutions across different business vertical sectors.
Participation in the Conference was also instrumental to InfiNet Wireless in helping to establish some new, key business contacts with potential partners and customers in the region.
_______
ALLNET.ITALIA S.p.A. is a high added-value distributor, specialized in innovative ICT and telecommunications solutions. Founded in 2000 in Bologna, ALLNET.ITALIA S.p.A. has a strategic alliance with the leading German distributor ALLNET GMBH founded in Munich in 1991 with operations across Europe and Globally. The company's focus concentrates on vertical professional markets, working in close contact with its partners and supplying infrastructural solutions and ICT applications.