InfiNet Wireless, the leading vendor for Fixed Wireless Broadband Access solutions, is pleased to announce the availability of its new products in 5 GHz frequency band.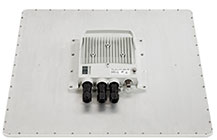 InfiLINK XG and InfiLINK 2x2 point-to-point families of products as well as InfiMAN 2x2 subscriber terminal range of products have received 26 dBi integrated antenna models. This will provide additional flexibility for network designers and help to improve service levels for end users.
The new antenna combines compact size - just 370х370 mm, high gain and perfect directivity. Compared to 23 dBi models, the new devices increase the range by up to 50% and throughput by 1.5 times at the same distance.
The new units have a low-profile form-factor which means they can withstand a reasonable wind load. Taking into account that all the new models weigh well within 2.5 kg, the units are perfectly suitable for rapid deployment using simple masts and supporting structures.
The new models are available immediately for ordering and shipping.