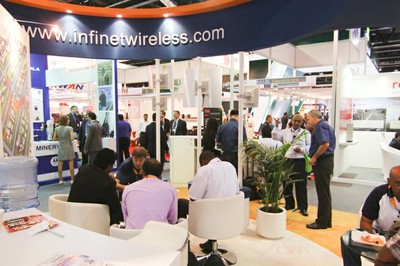 Known as one of the largest and most consistent communications and technology trade fairs around the globe, and by far the most important technological event serving the Middle East, GITEX is a pivotal attraction for over 3,500 international and regional exhibitors each year, drawing in leading senior executives and more than 136,000 ICT professionals from over 135 countries annually. GiTex has always been a key event in InfiNet Wireless's marketing calendar, given the importance of the region and some of its industries (for example: oil, gas and energy) to InfiNet's customer base, which also reflects the growing demand for InfiNet's wireless technologies in the region.
One of the key attractions to InfiNet's stand over the course of the week was its latest, third generation series of the InfiLINK 2x2 point-to-point and InfiMAN2x2 point-to-multipoint wireless solutions, and in particular the recently launched InfiLINK 2x2 PRO solution, which offers best in class range and throughput for long-haul wireless deployments. Coupled with the announcement at GiTex 2011 of the new "Instant DFS" feature – a technology innovation that allows a customer to continuously monitor the wireless spectrum for noise, interference or congestion and which will then automatically switch a system's wireless channels to a 'clean' frequency in order to prevent any downtime due to spectral interference - visitors were reassured that the InfiNet solution range was still leading the pack in terms of product reliability, technology and price leadership.
Kamal Mokrani, VP Sales and Marketing for InfiNet Wireless, reflected on the importance of the event for both InfiNet Wireless as a vendor, and for the region's industry. "2011 saw InfiNet Wireless's strongest presence at GiTex Technology Week to date, where it showcased its industry-leading wireless products and solutions as well as making a number of important announcements regarding new products and technology innovation. We also had a record number of visitors to our stand, hopefully reflecting the confidence of customers not only in our products but also in the wider economy of the region. Beyond the anticipated interest in our long-haul point-to-point and point-to-multipoint technologies, which are always a popular draw to our stand given the importance of these solutions to the regional companies here, it was also pleasing to see a wider interest in a number of other wireless solution sets that we have announced this year – for example, our 3.5GHz product range, which allows customers to exploit a whole new range of frequencies for their wireless applications; our CCTV-specialized R5000 Customer Premise Equipment devices, which offer Power-over-Ethernet support to simplify outdoor IP-camera installation and deployment; and our InfiMAN 2x2 integrated antenna basestations and unique 28 dBi integrated antennas, which again have been engineered for simplified and rapid installation.
Overall, we found GiTex 2011 to be an excellent event for us, providing InfiNet Wireless with the opportunity to meet a wide spectrum of customers and prospects from both the local region and a wider international audience, and we look forward to participating again next year".